Oxford University Press (OUP)
History
Oxford University Press (OUP) is a department of the University of Oxford. It furthers the University's objective of excellence in research, scholarship, and education by publishing worldwide. OUP publishes for all audiences—from pre-school to secondary level school children; students to academics; general readers to researchers; and individuals to institutions. Its range includes dictionaries, English language teaching materials, children's books, journals, scholarly monographs, printed music, higher education textbooks, and schoolbooks.
OUP has a rich history which can be traced back to the earliest days of printing. The first book was printed in Oxford in 1478, just two years after the first printing press was set up in England. In 1586, the University obtained a decree confirming its right to print books. In 1636 this decree was enhanced entitling the University to publish 'all manner of books'.
The policy of OUP is overseen by a group of Delegates appointed from the academic staff of the University. The Delegates meet fortnightly under the chairmanship of the Vice-Chancellor. They are actively involved in the publishing programme. All proposals are referred to them for approval and individual Delegates liaise with editors in their specialist subject areas. The Chief Executive of the Press is responsible for running OUP, and is also known by the traditional title of Secretary to the Delegates.
Today OUP has offices in more than 50 countries, publishes in more than 90 languages, and is the largest university press in the world.
Oxford University Press Pakistan
Profile
The Pakistan Branch of Oxford University Press (OUP) started operations in 1952. The head office of OUP Pakistan is in Karachi with regional offices in Lahore, Islamabad, and Multan. There is a bookshop-cum-office each in Peshawar, and Faisalabad, and the Branch maintains a representative presence in Hyderabad, Sukkur, Rahim Yar Khan, Dera Ghazi Khan, Sargodha, Sahiwal, Rawalpindi, Abbottabad, and Quetta.
OUP Pakistan is committed to the dissemination of knowledge and publishes works that further scholarship and education. OUP Pakistan's publishing operations fall into four distinct areas: school texts and library, higher education, academic, and lexical and general reference.
The Education Department publishes children's/library books, school textbooks to meet key curriculum requirements, language and other reference books for schools, teacher resource books, student activity books, and bilingual school dictionaries.
The Higher Education Department publishes college and university textbooks for undergraduate and graduate students, spanning a wide range of subjects and specializes in the disciplines of law, economics, literature, language, gender studies, sociology, and environmental science.
The Academic Department publishes books on all aspects of Pakistan Studies including the areas of history, literature, education, travel, anthropology, Islamic studies, strategic studies, sports, archaeology, and art.
The Lexical and General Reference Division covers both the non-lexical and lexical areas. The Oxford English–Urdu Dictionary by Shanul Haq Haqqee has become the standard reference work for academics, journalists, teachers, and general readers. The Oxford Companions that are under preparation will contribute to such fields as history, literature, and art.
Across the whole spectrum of OUP Pakistan publishing is a specifically Pakistani component with Pakistani authors and books on Pakistan fulfilling our vision of serving the needs of our academic and educational communities and general readers.
OUP Pakistan's books are distributed worldwide through its head office in Oxford and other offices in New York, Dubai, and Delhi. It also distributes books imported from its head office in Oxford, and other offices in New York and Delhi.
OUP Pakistan holds that there are several books of intrinsic value which would never reach publication if only commercial criteria are applied. Such books need to be written, they need to be published, and they need to be read. OUP Pakistan uses its profits partly to support the publication of such books and partly to support its overall publishing programme.
OUP Pakistan believes that there is a real future for the publishing industry in Pakistan. It does not subscribe to the common refrain that 'book reading is not part of our culture'. Rather it is of the opinion that it is also the responsibility of local publishers to effect change and inculcate the book-reading habit among the people. It works towards this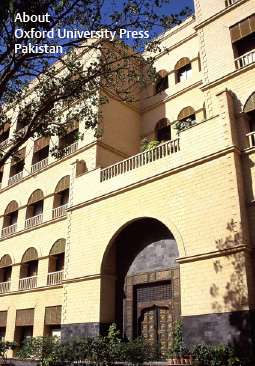 purpose by encouraging and cultivating writers within our society, by introducing newer and better quality books into the market, and ensuring that these books are reasonably priced and readily available.
OUP Pakistan also fights against piracy which, while claiming to lower prices, actually deprives authors of their rightful dues and thus, a nation of its authors.
Because of OUP's high standards of quality and production, the name 'Oxford' has come to signify both authority and quality in Pakistan as it does elsewhere in the world.